THE FUNDY BASIN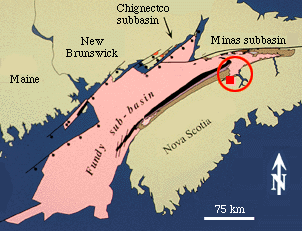 The Fundy basin consists of 3 connected subbasins that lie mostly submerged beneath the greater Bay of Fundy and Gulf of Maine. Together they comprise the largest exposed Triassic-Jurassic rift basin in Eastern North America.
For the field trip on Day 2, we looked at outcrops that show the basic basin stratigraphy on the hinge margin of the basin where it is structurally uncomplicated (red circle).
Below is a diagram depicting the major tectonostratigraphic divisions of eastern US early Mesozoic basins within the basic half graben geometry of the basins (from Olsen, 1977).

References:
Olsen, P. E. 1997. Stratigraphic record of the early Mesozoic breakup of Pangea in the Laurasia-Gondwana rift system. Annual Reviews of Earth and Planetary Science v. 25, p. 337-401.
Back to FIELD TRIPS - A VIRTUAL SAMPLER OF THE STOPS TO BE