THE FUNDY BASIN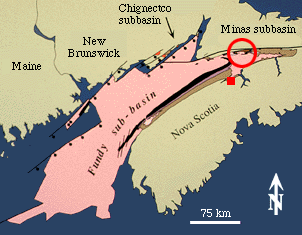 The Fundy basin consists of 3 connected subbasins that lie mostly submerged beneath the greater Bay of Fundy and Gulf of Maine. Together they comprise the largest exposed Triassic-Jurassic rift basin in Eastern North America.
For the post-meeting field trip (Day 4), we will look at outcrops that show the strike-slip margin of the basin where it is structurally quite complicated (red circle).
Below is a diagram depicting the major tectonostratigraphic divisions of eastern US early Mesozoic basins within the basic half graben geometry of the basins (from Olsen, 1977).

References:
Olsen, P. E. 1997. Stratigraphic record of the early Mesozoic breakup of Pangea in the Laurasia-Gondwana rift system. Annual Reviews of Earth and Planetary Science v. 25, p. 337-401.
Back to FIELD TRIPS - A VIRTUAL SAMPLER OF THE STOPS TO BE