CROSS SECTION OF THE NEWARK BASIN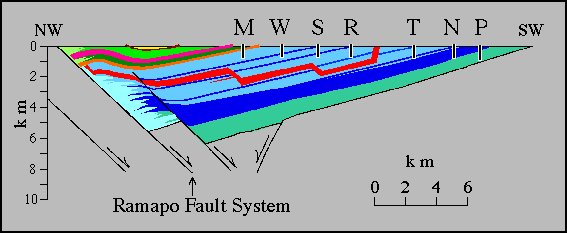 M = Martinsville no. 1 core; W = Weston Canl no. 1 & 2; S = Somerset no. 1 & 2; R = Rutgers no. 1 & 2; T = Titusville no. 1 & 2; N = Nursery no. 1; P = Princeton no. 1 & 2
Stockton Fm.

Lockatong Fm.

Passaic Fm.
Orange Mt. Basalt
Feltville Fm.

Preakness Basalt

Towaco Fm.

Hook Mt. Basalt

Boonton Fm.
Conglomerates


Palisade sill
Diagramatic concept of the offset drilling method for the Newark Basin Coring Project (NBCP) cores. The sites are selected so that coring is spudded in a known stratigraphic marker bed and then proceeds to another mapped unit near the bottom of the hole. The next site is picked to spud into marker bed encountered near the base of the previous core hole. The sites were planned so that there was about 25% overlap between stratigraphically adjacent cores.
DETAIL OF ACTUAL CROSS SECTIONS FROM WHICH CORES CAME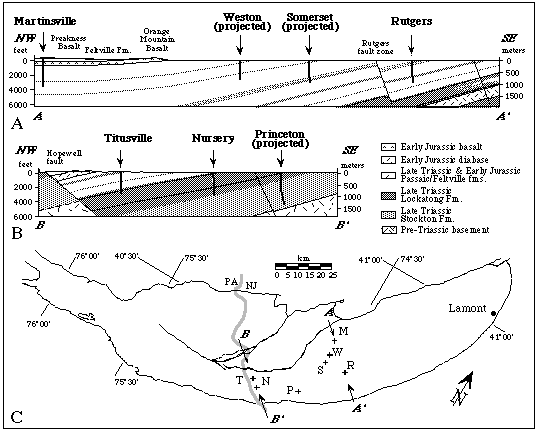 A Northeastern transect (A - A' in C); B Southwtern transect (B- B' in C); C Map of the Newark basin showing positions of two core transects (A and B) and positions of core holes (Figure adapted from Olsen, et al., 1996).
NBCP HOME PAGE Return to the Newark Basin Coring Project Home Page
PROJECT DESCRIPTION Description of the Newark Basin Coring Project (NBCP)
PROJECT LEADERS The two PI's of the project: Paul Olsen and Dennis Kent
BIBLIOGRAPHY AND ABSTRACTS Papers from the NBCP
ON-LINE DATA Data avaliable from the NBCP project
CONTINENTAL-SCIENTIFIC-DRILLING NSF's Continental Scientific Drilling Program