NEWARK BASIN CORING PROJECT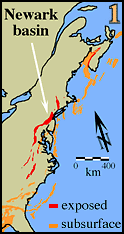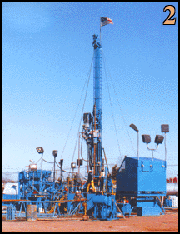 1) Rift basins of the Newark Supergroup of eastern North America showing the position of the Newark basin. 2) The Amoco SHADS coring rig at the Rutgers coring site. 3) An evolutive power spectrum of relative lake level (W.D.) based on the Triassic age lacustrine portion of the Newark basin cores.


The Newark Basin Coring Project (NBCP) was a scientific drilling project funded by the National Science Foundation from 1989 to 1994. The three main goals of the project were to recover a very long and detailed record of ancient continental climate, unravel the history of one of the largest and longest lived rift basins, and produce a magnetic polarity time scale for the Late Triassic.
NBCP PROJECT DESCRIPTION
NBCP DRILLING SYSTEMS
PROJECT LEADERS (P. OLSEN & D. KENT)
BIBLIOGRAPHY AND ABSTRACTS OF THE NBCP
ON-LINE DATA
LAMONT BOREHOLE RESEARCH GROUP
PANGEA CORING TRANSECT
TRIASSIC-EARLY JURASSIC TIME SCALE (NEW)
NSF'S CONTINENTAL DYNAMICS
COLORADO PLATEAU CORING PROJECT




The pages web-counter says that you are visitor
Note: The background image is a segment of the Somerset core, digitally stretched