I. THE AMOCO SHADS SYSTEM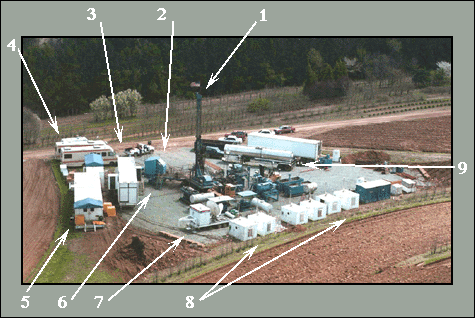 The Amoco SHADS coring operation on the Princeton core site.
1, Diamond-bit coring rig with well control and closed circulation drilling fluid system; 2, Control cab for coring rig; 3, Computerized engineering shed for monitoring drilling operations; 4, Mobil homes for housing the Amoco drilling managers and engineers on-site on a 24-hour basis; 5, Geological modules in which core preparation (cutting into 3 ft lengths and boxing) was carried out along with the collection of the core description, digital images, and geophysical measurements; 6, Water well (not visible) for on site drilling water; 7, Satellite dish for voice and telemetric communication; 8, Electrical generators for power; 9, Tanker truck for drilling fluids.


DESCRIPTION
Amoco Production Company's SHADS (Scientific High-speed Advanced Drilling System) was used in a cooperative agreement to core 6 of the 7 Newark Basin Coring Project sites. The cores drilled by Amoco (in the order in which they were drilled) were: Rutgers no. 1 & 2; Somerset no. 1 & 2; Titusville no. 1 & 2; Nursery no. 1; Martinsville no. 1; and Princeton no. 1 & 2. The SHADS operation consisted of a self-contained easily transportable modular system with components listed above. Besides the environmental protection given by the closed drilling fluid and blow out protection systems, the main advantage of the SHADS operation was the on-site geophysical data collected, the most important among are natural gamma radioactivity and magnetic susceptibility. A full description of the coring details and geophysical logs of the cores can be obtained in DOSECC (1994) (go to abstract) and the core geophysical data can also be retrieved on-line. Down-hole geophysical logs were obtained by the Lamont Borehole Research Group who contracted BPB Inc. (go to abstract) (get data).
II. LONGYEAR CORING SYSTEM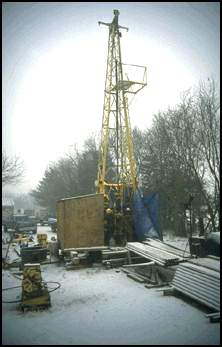 The Longyear Drilling Company coring rig at the Weston Canal site.
Longyear Drilling company cored the Weston no. 1 & 2 cores at the last site and Exlog Inc. provided personnel for core handling. The Longyear system consisted of a ~2.5 in diameter "HQ" diamond-bit coring rig and had a standard drilling fluid system. A full description of the coring details can be obtained in DOSECC (1994) (go to abstract) Down-hole geophysical logs were again obtained by the Lamont Borehole Research Group who contracted BPB Inc. (go to abstract) (get data).

NBCP HOME PAGE

NBCP PROJECT DESCRIPTION

PROJECT LEADERS (P. OLSEN & D. KENT)

BIBLIOGRAPHY AND ABSTRACTS
ON-LINE DATA

CONTINENTAL-SCIENTIFIC-DRILLING

NEWARK BASIN REPORT AT CDS

THE LDEO CLIMATE GROUP