A Day in the Life of the Hudson River
"Snapshot Day" October 12, 2005
General Note: Snapshot Day Participants 2005 faced residual effects of Hurricane Tammy as they collected data. Weather conditions ranged from wet to wetter. Driving rains dumped inches of rain throughout the Hudson Estuary. Piermont area (image above) received 3.9 inches of rain during the day and Manhattan received 4.26 inches of rain, a record rainfall amount for one day according to the National Weather Service. Flood Watches were in place for much of the participating area.
In some instances participants had shelters where they could huddle and perform test. In other areas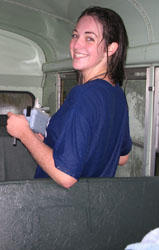 they used school buses as a base of operations (Mahopac HS image). Still others ran quick tests in the driving rain and headed home. A few schools unfortunately had to cancel their involvement and are looking forward to next year.
While the data collection was less comprehensive in some locations than in prior years due to the poor weather conditions, dedicated students, teachers and environmental educators did a remarkable job of gathering baseline information in all reaches of the estuary. The rainy conditions actually offer a unique set of factors which can be used in data examination:
Examining how temperatures changed, both air and water during the course of the day. Did they change together? Did one change more rapidly than the other? Why or why not?
What happened with Dissolved Oxygen in some reaches of the river?
What was turbidity like in the river system?
What happened to salinity levels, and the salt front, which had been recorded at RM 71.6 on 10/1/05.
These and other questions make this year's data interesting to consider.
*Most files saved as word, and pdf documents; Sites/Participants is pdf; Chlorophyll and Sediment Samples are linked web pages.
| Files By Topic (word) | Files By Topic (pdf) | Site Names/Locations | Files by Site (word) | Files by Site (pdf) |
| --- | --- | --- | --- | --- |
| | Sites & Participating Groups | Troy NY - Junior Museum/Heatly School | RM 151 | RM 151 |
| Dissolved Oxygen | | Stuyvesant Landing - Columbia County Soil & Water | RM 127 | RM 127 |
| pH | | Nutten Hook, Stuyvesant - Columbia Land Conservancy | RM 124 | RM 124 |
| Phosphates | | Coxsackie - DEC Five Rivers | RM 123 | RM 123 |
| Nitrates | | Cohotate Preserve, Athens - Greene County Soil & Water | RM 115 | RM 115 |
| Alkalinity | | Saugerties Light House, Woodstock Day School | RM103 | RM 103 |
| Salinity | | Ulster Landing Park, Ulster - EMC | RM 97 | RM 97 |
| Physical Factors | | Esopus Meadows Environmental Center, Esopus - Clearwater | RM 87 | RM 87 |
| Tides | | Norrie Point, Staatsburg - HRNERR | RM 85 | RM 85 |
| Currents | | Waryas Park - Poughkeepsie, Mid-Hudson Children's Museum | RM 76 | RM 76 |
| Shipping | | Long Dock, Beacon | RM 61E | RM 61E |
| Weather | | Newburgh Landing, Newburgh | RM 61W | RM 61W |
| Fish | | Kowawese Park, New Windsor | RM 59 | RM 59 |
| CPUE (Fish Count Per Unit of Effort) | | Verplanck - Mahopac High School | RM 41 | RM 41 |
| Chlorophyll | | Piermont Pier, Lamont-Doherty Earth Observatory | RM 25 | RM 25 |
| Sediment Samples | | Hudson River Museum | | RM 19E |
| | | Alpine Boat Basin, Tenafly Nature Center | RM19W | RM 19W |
| | | Beczak Environmental Center, Yonkers | RM 18 | RM 18 |
| | | Inwood Park, NY Park Rangers | RM 15 | RM 15 |
| | | Swindler's Cove, New York Restoration Project | RM 13 | RM 13 |
| | | 79th Street Boat Basin, Manhattan - Metro Montessori School | RM 6 | RM 6 |
| | | Christopher Street Pier - New York City Soil & Water | RM 4 | RM 4 |
| | | Manhattan - The River Project | RM 2 | RM 2 |
| | | Gowanus Canal - Urban Park Divers | RM0 | RM 0 |