Home
Our 2014 event was held Thursday October 16th and several rain dates have followed for sites that were unable to sample 10/16/14 due to weather.
No one can believe it! Everyone is talking about our 2014 event! Check it out!
'DAY IN THE LIFE OF THE HUDSON RIVER' INFORMATION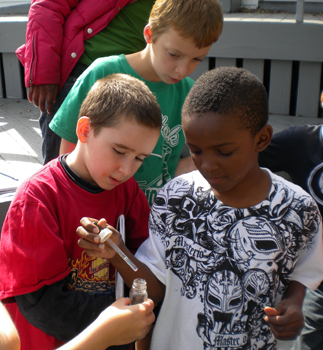 The event is designed to celebrate the Hudson River Estuary and educate participants on the uniqueness of our estuary as part of the annual recognition of "National Estuaries Week". The event is coordinated by The Hudson River Estuary Program of New York State Department of Environmental Conservation and Lamont-Doherty Earth Observatory. Each fall, environmental education centers are encouraged to team with school classes along the Hudson River to create a day-in-the-life picture of the river from the Troy Dam to New York Harbor. The event began in 2003 with a modest 300 plus student participants and has grown until in our most recent event, October 2013, we involved over 3500 students and individual participants almost 70 sites from the New York Bight up to Lock 5 in the Hudson River, and into the Mohawk watershed, a major Hudson River tributary. Each site gathers data on the Hudson and shares their results, gaining a better understanding of this historic and vital estuary system. Data, Lesson Plans, Resources...lots of resource materials are provided here for your use in joining us on a virtual exploration of the river...and plan to join us on in 2014 for your own dip in the Hudson River as part of our Day in the Life on the Hudson River! How can you get involved? Register and/or Contact Margie Turrin of Lamont-Doherty Earth Observatory, Rebecca Houser, Chris Bowser, or Steve Stanne of The Hudson River Estuary Program to learn more about this event.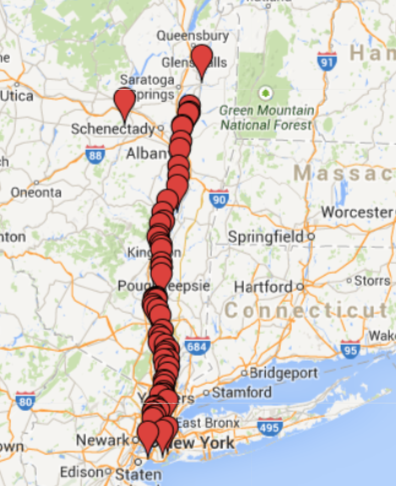 Click on the interactive map below to see where we had groups sampling for our Day in the Life Event!
We have over a decade of students - undergraduates to elementary school - joining together one special day a year to sample, learn and engage with the Hudson River! In the last 11 years we have engaged over 23,000 participantsin our Day in the Life events, bringing students, teachers and educators to the Hudson River for sampling, learning and fun! Check out the results for 2014!