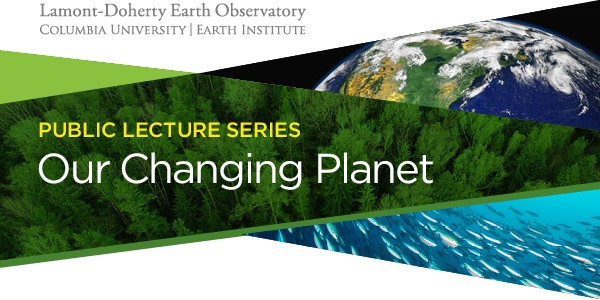 Public Lecture Series: Our Changing Planet
Lamont-Doherty Earth Observatory presents Our Changing Planet, three unique evenings of discovery and engagement to illuminate how our climate is changing and the scientific discoveries that may inform vital solutions.
"The public lecture series is Lamont's way of inviting our community into our world of discovery, and offering our neighbors a window into the vast universe of scientific exploration and understanding." —Stacey Vassallo, Senior Manager of Development and Community Relations
6:00-8:00 pm
Light refreshments at 6:00 pm; Lecture begins at 7:00 pm
Monell Auditorium
Lamont-Doherty Earth Observatory, 61 Route 9W, Palisades, NY 10964
RSVP Required
Space is limited!
Quetions?
---
December 4, 2019
Farmer, Banker, Soldier, Spy
—

Perspectives on a Warming World

Peter de Menocal, director of Lamont's Center for Climate and Life, kicked off the series by posing important questions about the scale and urgency of global challenges now and into the future.
---
Feburary 20, 2020
Climate, Carbon Dioxide, and Sea Level: Past Is Prologue
Piermont's own
Maureen Raymo
,
Bruce C. Heezen Lamont Research Professor
and director of the Lamont Core Repository, will review evidence for natural and human-caused climate change, and what actions we can take as individuals, families, communities, and governments.
---
EVENT POSTPONED: In an abundance of caution, we are postponing the public lecture 'Wildfire, Megadrought, and the Role of Humans,' which was scheduled to take place on April 2. We apologize for this inconvenience, but the health and safety of all who attend our programs is our priority. We look forward to hosting this event in the near future and hope you will join us at that time. Thank you for your understanding.
April 2, 2020
Wildfire, Megadrought, and the Role of Humans
Bioclimatologist Park Williams will discuss his groundbreaking research on the correlation between intensifying hot and dry spells and the rapidly rising increase in forest fire risk.