THE EDWARD HITCHCOCK VIRTUAL ICHNOLOGICAL CABINET
at The Pratt Museum of Amherst College
[This site is incomplete and under constant construction and revision]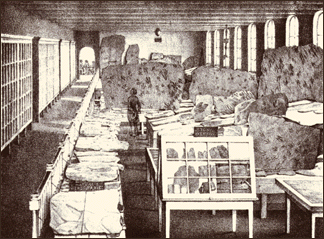 Interior of the Appleton Cabinet in about 1865 (from E. Hitchcock, 1858, Pl. IV, Fig. 1)
The Pratt Museum of Amherst College in Amherst, Massachusetts contains the largest dinosaur footprint collection in the world, largely amassed by Edward Hitchcock in the years from 1836 to 1865.
This web site is a virtual museum complete with a map of the collection, a catalogue, images of the specimens, and bibliography. There are images not only of all of the important specimens, but also of all of the figures of these specimens as given in the 19th century works of E. Hitchcock, C. H. Hitchcock, and James Deane. This allow users to trace the literature history of individual footprint taxa and specimens.
Below is a table of contents of the virtual cabinet.
Geographic Distribution
Stratigraphic Distribution
Photographic Credits