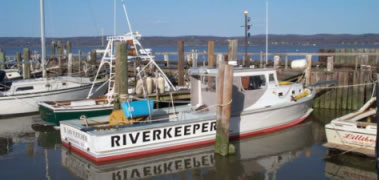 As part of the Hudson River Benthic Mapping Project we collected a comprehensive suite of acoustic and sediment data for the tidal Hudson River Estuary from the New York Harbor to Troy.
It is often useful to view data in context of other data. GoogleEarth provides a freely available tool for browsing and visualizing spatial data using high-resolution aerial photography and satellite images.
Google Earth does not come with detailed images from the bottom of the Hudson River, but it provides a great platform the put data from the Hudson River into a spatial context and it easy to add Hudson River data.
How to get GoogleEarth
Download Google Earth here: http://earth.google.com/
(You need to install GoogleEarth on your computer, if you haven't done so already. It requires a rather recent Computer with Windows XP, Windows 2000 or Mac OS X.)
Hudson River Data Examples
Here is a set of data examples from the Hudson River Benthic Mapping Project. We also have more complete sets of sidescan sonar.