Planning Tools
Lamont-Doherty Earth Observatory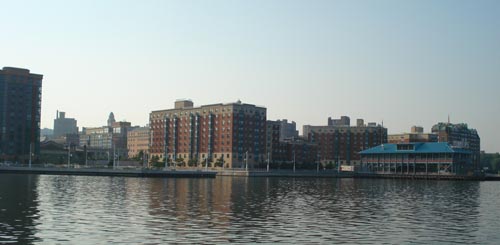 Yonkers Waterfront
Planning is a long process. It doesn't happen quickly, and it doesn't happen without discussion, vision and a source of funding. There are many things to consider in planning.
WHAT ARE YOUR COMMUNITY STRENGTHS?
All planning should begin with a focus on the strengths of the community. So what are some of your Community's strengths? Consider:
Location, location, location! Every location has a strength so what is special about yours?
A diverse and well networked community that is intergenerational is important. Does your community have diversity in ages, incomes, ethnicity?
A successful economic 'engine' creating and keeping local jobs. This can include light industry, small community stores and locally owned businesses with a connection to the community, unique services. What business and jobs are in your community?
Walkablity within the community to minimize traffic and transportation needs is important. How walkable is your community?
Roadway and plans for traveling outside the community are needed. Is transportation available?
HOME RULE:
New York State is referred to as a 'home rule' state. This means is that local governments have the power to adopt and amend (change) local laws, as long as they are not inconsistent with the constitution or general laws. Local laws decide issues of land use planning, appropriate zoning and enforcement. Home Rule places a lot of power and authority at the local level, which can have positive or negative consequences.
Positive: On the positive side, it means that decisions are made by people who live in the community. Those people who are affected should have the strongest voice in planning.
Negative: On the negative side, it means that there is often no regional vision. Local planning decisions can have impacts on a larger area, but those people impacted often do not have a voice since they live in a neighboring community. Local decision-making can also mean that the people making land use decisions are not specifically trained in land use planning.
WATERFRONT COMMUNITIES: Is your's a waterfront community? If so consider a Local Waterfront Revitalization Program (LWRP).
New York State's LWRP is a program of grants and financial assistance to aid waterfront communities in bringing renewed life to their waterfront resources. The process involves a planning document that is prepared and agreed upon by the community. It is then approved by the New York State Secretary. If approved the local community can work with the state and the federal government to obtain funding assistance. Why would a community participate in a LWRP?
To help develop community consensus through public hearings
To gain technical assistance from the state
To provide a consistent set of guidelines that helps with gaining funding from the state and the federal government
URBAN RENEWAL - Another Financial Tool:
Urban Renewal Plans are long-term plans for improving the economy and community of areas that meet certain defined requirements as "blighted areas" (deteriorated neighborhood). Urban renewal projects are undertaken as a way to remove the conditions of blight. These projects can be controversial as they are often linked to the use of eminent domain and a process of gentrification in communities or neighborhoods (see terms). Both eminent domain and gentrification are topics that should be carefully considered as they have long-term consequences.