Rockland Program
Lamont-Doherty Earth Observatory
Link to Learning Goals for Class Visits
Rockland P.L.U.S. engages students in planning in their immediate community. Our County is composed of 5 towns and 19 villages, each with a unique identity and set of factors to consider for future development projects. In these communities there are pockets of commercial and residential development that are thriving, and others that are hoping for new energy and revitalization. For Rockland P.L.U.S. 2021 the students worked with a location in their Rockland community to revitalize it. Students considered how creative planning could make the community more sustainable and climate smart through increased efficiency in transportation, water and energy. This year students used an online Google Earth platform to build their projects and tours. Click on the images below to explore a few samples of the student final products!
| | |
| --- | --- |
| | |
| Schimpf Farm Project 1 from Albertus Magnus High School. Click on the project image for a tour of the site and the project ideas, and here for the school write up. | Schimpf Farm Project 2 from Albertus Magnus High School. Click on the project image for a tour of the site and the project ideas, and here for the school write up. |
Class projects: really S.E.E.E. your community. Students consider four complementary processes that make a community successful and sustainable: a balance of social, economic, equitable and environmental factors or what we refer to as S.E.E.E.ing their community. ~300 students from close to a dozen community high schools (Albertus Magnus, Clarkstown North, Clarkstown South, North Rockland, Nyack, P-Tech, Ramapo, Suffern and Spring Valley) participate in a series of 3 classroom visits each as they develop projects focused on their own region of Rockland. Approximately 130 students will participate in the final symposium, representing their fellow classmates.

Symposium Event. Our 2021 Symposium Event was virtual. The students presented their own community project to mentors from the community, and then focused on the Haverstaw 10 acre waterfront Chair Factory site.

Students work with planning cards to complete cost/benefit analysis.
The following pages of the website relate to the different school visits we will make. Please consider the questions before our visits:
Visit #1 - Home, Sustainable Planning, Background, Current Community
Visit #2 - Planning Tools, Affordable Housing, Water Quality, Brownfields
Visit #3 - Public Participation & SEQRA, Thinking Green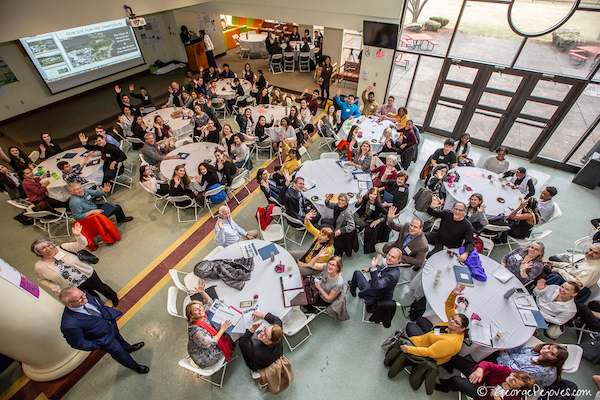 2021 STUDENT PLANNING MATERIALS
Link to PHOTOS from the 2019 event - password is green (case sensitive). Any reuse of these images should cite George Pejoves our event photographer.
2021 Local Case Study Files
Links Below for the 2021 event
Links Below to a Mini Case Study Using the Palisades Mall as a Target Area
The Rockland P.L.U.S. event is a collaborative project of the following groups:
THANK YOU TO OUR GENEROUS SPONSORS WHO MAKE THIS EVENT POSSIBLE!
| | | |
| --- | --- | --- |
| | M & T Charitable Foundation | |
| | | |