Case Studies of Development Along The Hudson River Waterfront & Adjacent Communities
Student Programs Focused on Local Land Use Decisions Along the Hudson River
Educators/Teachers: You may wonder why invest teaching time in PLUS? There is tremendous value to the students and the community in introducing them to land use decisions. Click here to view a presentation on the educational value of this project. Planning for the Rockland 2016 PLUS is underway. Our 'community focus' will be revisioning exit 10 in S. Nyack around the New Bridge project. Sign your school up now to be part of this project. Contact Sonia Cairo or Margie Turrin for more information.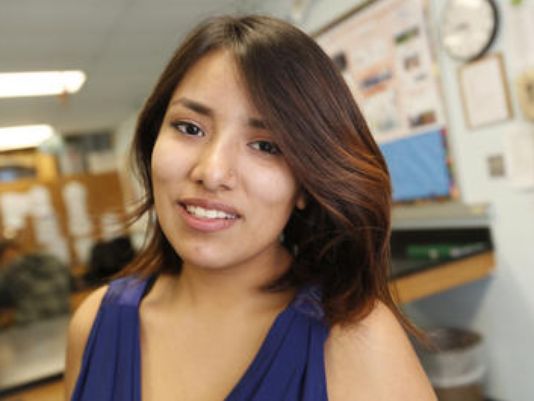 Rockland P.L.U.S. and Spring Valley student Daysi Barahona was selected Lower Hudson Student of the Week following her participation in the 2014 event. Click here to read her story (photo by Rick Flores, photo and article courtesy of the Journal News).
Students: You may wonder how local planning issues can be of concern to you. You don't own property, don't pay property taxes, and you may not yet be able to vote...isn't this someone else's issue? The truth is this issue is very much connected to young people. The P.L.U.S. program is designed to show you and other students why you should be involved, and how to take advantage of that connection to offer your input.
Have you ever wondered who decides what will be built in your town or village?
Have you ever enjoyed the Hudson River waterfront and wondered if that land could be privately owned keeping you or your friends from access to the river?
Do you think of your community as making decisions that carefully plan for the future? Are they thinking green? Are they protecting existing resources? Have they considered issues of sustainability?
These are some issues in land use decisions. Through this program you will experience what it is like to be part of a team that makes land use decisions. You will focus on the actual planning for reuse of one of many properties located within your community. You will work with students from your school as well as other schools in your community to examine important land planning questions:
List concerns that are most important to you for your community.
What different concerns seem important to others?
What are the impacts, both positive and negative, of both sets of concerns?
These are all important questions to consider in planning. Every person comes in with their own way of looking at things but through listening to other people and working together good planning can occur. Let's get started!
The PLUS event is a collaborative project offered in both Rockland and Westchester Counties.

Throughout its history PLUS has been made possible by the generous contributions of many sponsors. We have appreciated the strong community support in both Rockland & Westchester through the years.