Home
WOW! What at wonderful, sunny fun-filled DAY IN THE LIFE 2021! With ~70 sites, and 3300 participants up and down the estuary we have lots of wonderful material for students and educators to work with. We will be posting individual site results on the 2021 Data page and will be adding a virtual experience that ties together the different parts of the estuary! For now we are sharing a set of activities (below) based on the data collected and you can register for follow up workshops with school groups! And try our 3 part investigation "IS THE HUDSON A RIVER OR AN ESTUARY?" with separate Middle & High School Work Packets, Teacher Notes & 3 Supporting PPTs!
We encourage you to focus on one section or to explore all three and use the different linked worksheets to travel through the video. You will collect data as you go and then use your data to answer a few questions at the end of the datasheet. Forquestions of additional information contact Margie Turrin at LDEO, Rebecca Houser or Chris Bowser with The Hudson River Estuary Program.
Curious about the results from with Day in the Life 2019? CHECK OUT THE 2019 DATA PAGE, activity sheets, or take a minute to work with the interactive database to compare parameters, compare sites and look through time! Teachers and students did you enjoy Day in the Life? Would you like to have some fun with the data? Cary Institute offers a very innovative way to do that through their annual Data Jam! It is a wonderful and creative way to extend the Day in the Life having fun with data!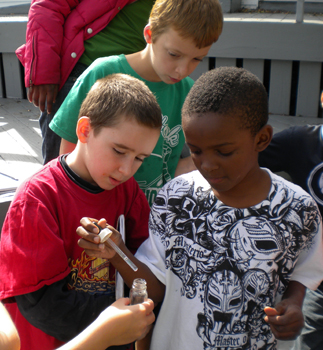 Event Description: The event is designed to celebrate the Hudson River Estuary and educate participants on the uniqueness of our estuary as part of the annual recognition of "National Estuaries Week". The event is coordinated by The Hudson River Estuary Program of New York State Department of Environmental Conservation and Lamont-Doherty Earth Observatory. Each fall, environmental education centers are encouraged to team with school classes along the Hudson River to create a day-in-the-life picture of the river from the Troy Dam to New York Harbor. The event began in 2003 with a modest 300 student participants and has grown until in our most recent event, October 2018 where we involved over 5000 students and individual participants ~ 90 sites from the New York Bight up to Peebles Island on the Hudson River, and into the Mohawk watershed, a major Hudson River tributary. Each site gathered data on the Hudson and shared their results, gaining a better understanding of this historic and vital estuary system. Data, Lesson Plans, Resources...lots of resource materials are provided here for your use in joining us on a virtual exploration of the river...and plan to join us on in 2019 for your own dip in the Hudson River as part of our Day in the Life on the Hudson River! Check out the results page!